Auroral Activity Forecast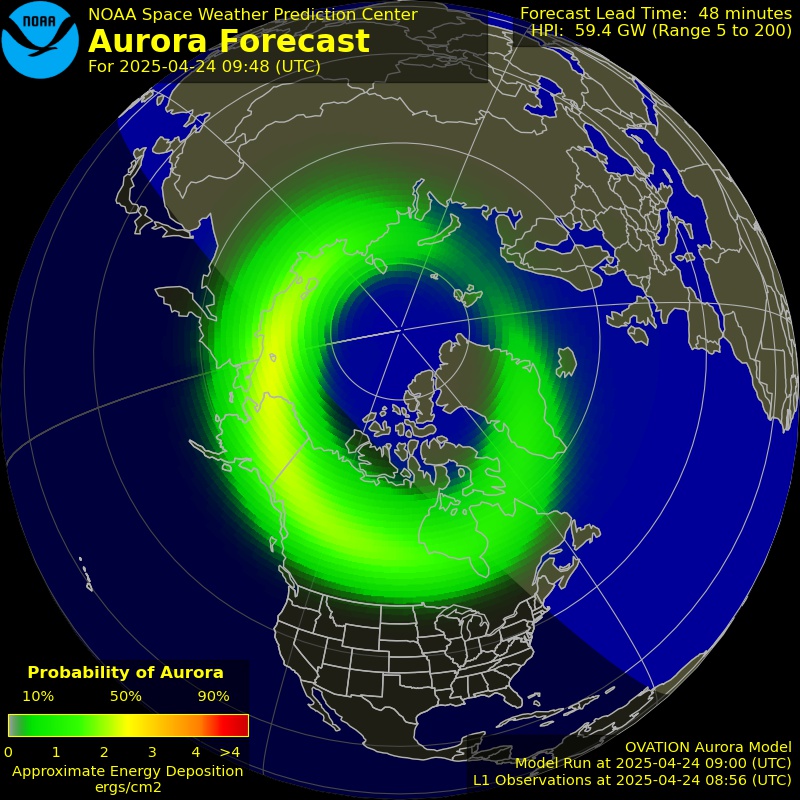 Click Here to Enlarge
​

3-Day Geomagnetic Forecast [Details]
June 22

June 23

June 24

2(G0)
Max Kp

3-4(G0)
Max Kp

4(G0)
Max Kp

Prob-M 01%
Prob-H 20%

Prob-M 15%
Prob-H 55%

Prob-M 25%
Prob-H 60 %
Solar Flare Risk
M-Class: 25%
X-Class: 10 %
Active Watches
Geomag. Storm NO
Radiation Storm NO
---
Picture of the Day
Supernova Remnant: The Veil NebulaImage Credit & Copyright:
Craig Stocks
(Utah Desert Remote Observatories)
​
Explanation:
Ten thousand years ago, before the dawn of
recorded human history
, a new light would have suddenly have appeared in the night sky and faded after a few weeks. Today we know this light was from a
supernova, or exploding star
, and record the expanding debris cloud as the
Veil Nebula
, a
supernova remnant
. Imaged with color filters featuring light emitted by
sulfur
(red),
hydrogen
(green), and
oxygen
(blue), this deep wide-angle view was processed to remove the
stars
and so better capture the impressive glowing filaments of the Veil. Also known as the
Cygnus Loop
, the
Veil Nebula
is roughly circular in shape and covers nearly 3 degrees on the sky toward the
constellation of the Swan
(Cygnus).
Famous
nebular
sections include
the
Bat Nebula
, the
Witch's Broom Nebula
, and
Fleming's Triangular Wisp
. The
complete supernova remnant
lies about 1,400
light-years
away.
---
Observing Weather Forecast

Here is a chart showing weather and sky conditions for tonight and tomorrow for Windsor from Environment Canada's weather data. Just click on the logo for more information. If you click on the title "Clear Sky Chart", you will link to a website where you can access charts for other locations around North America.
---
Explore Tonight's Sky with Stellarium-Web
(click on the picture below to get started)

---
Explore the Solar System with This Interactive Model...
LATEST ASTRONOMY NEWS & EVENTS:
HOW TO OBSERVE SUPERNOVA 2022hrs
in Galaxy NGC4647 in Virgo
(June 22, 2022) by Steve Bufford

---

Enormous Ring of Debris Around Young Star Holds Clues to Planet Formation
​(March 9, 2018) NEWS RELEASE FROM HUBBLESITE.ORG

Observing Highlights for the Sky
This Week
(March 11 -18, 2018)

Supermassive Black Holes Growing Faster Than Expected (March 4, 2018)

Supermassive Black Hole Chows Down (December 1, 2015)

Comet Catalina C/2013 Finally Visible for Northern Observers! (November 20, 2015)
by Bob King

Artificial Object in Trans-lunar Orbit to Impact Earth on November 13 (November 2, 2015)
​by Bob King

Planets Meet in the Morning Sky
​(September 29, 2015)

Comet 67P Churyumov-Gerasimenko Reaching Peak Brightness - Visible in Amateur Telescopes! (August 24, 2015)

Jupiter and Venus Hook Up! (June 30, 2015)

New Juno findings amaze scientists studying Jupiter (March 7, 2018) by Kelly Beatty

Exoplanet Proxima Centauri b Had a Very Bad Day (March 1, 2018)

Last Chance to See Doomed Chinese Space Station (March 7, 2018) By: Bob King

Scientists See a Full Day on Pluto and Charon (November 19, 2015) by Nancy Atkinson

Numerous Fireballs Reported as Taurid Meteor Stream Impacts Earth's Atmosphere
(November 5, 2015) by Tony Philips

On This Date, 150 Years Ago: Solar Mega Storm! (September 2, 2015) by Dr. Tony Philips

THE SUN SWALLOWS A COMET:

New Horizons Sees the Whole Pluto Family for the First Time (May 13, 2015) By Bob King

Watch Venus Encounter the Pleiades This Week (April 7, 2015)
By Bob King, Astrobob@areavoices.com
---
---
Highlights of the Night Sky for This Month:
---
Want to Know When To See the International Space Station?

The international space station is the largest man-made object ever to orbit the earth. It circles the earth in an orbit high enough that we can see sunlight reflecting off its outer surfaces every time it passes overhead. Usually it appears like a rather bright star slowly moving across our sky here in Windsor and Essex
County. Knowing when and where to look for it is the tough part. Below are the flyover times from NASA for the Windsor Area. Just click on the date for all the info available. If you still need more detailed information for spotting the station, here is a website that can help you to go out at the right time and find it.
(Just click on) www.heavens-above.com
or
Go to NASA's website:
http://spotthestation.nasa.gov/sightings/index
.cfm
For ISS Sightings from Windsor, Ontario go to the bottom of this page!
Spot the International Space Station from Your Location...Click Here!


(Areas Near Windsor Ontario - See Chart Below)
Date Time Visible Duration Max Elevation Starts At Disappears At
Find Jupiter's Galilean Satellites

Identify Saturn's Satellites

What's Going On in the Sky Tonight?
Here is a little information on things that you can look for in the sky tonight and what is going on over the next few nights. For a Sky Chart to help you find your way around, scroll to the left-hand column (near the top) on this page.


Observing Journal Templates, Atlases and Online Charts (click on link)